Status
Characteristics
Origin
Origin
Alistair Smythe developed vibro-shock units which were given for Shocker to use when working for the Kingpin.
First appearance
Appearance of Death
.
History
Seemingly that of Herman Schultz (Earth-92131) up until the fight in the church tower with Spider-Man.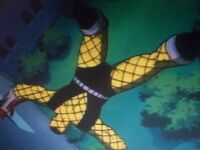 When
Spider-Man
in his black suit defeated the Shocker in the church tower, he killed him by pushing him out of the church window. The murder resulted in the symbiote completely taking over Spider-Man, and led to the death of many others as well.
Powers and Abilities
Abilities
See
Herman Schultz (Earth-616)#Abilities
Weaknesses
See Herman Schultz (Earth-92131)#Weaknesses

Paraphernalia
Equipment
See Herman Schultz (Earth-616)#Equipment
Discover and Discuss
Footnotes
Ad blocker interference detected!
Wikia is a free-to-use site that makes money from advertising. We have a modified experience for viewers using ad blockers

Wikia is not accessible if you've made further modifications. Remove the custom ad blocker rule(s) and the page will load as expected.